After months of walking past that replica model of Kidzania in The Curve to the big banners advertising their opening date and listening to Aristotle beg and beg and beg for us to visit this wonderland for kids, we finally bought tickets to go a couple of weeks back. It cost me RM55 for Aristotle, RM35 for Hercules, and RM35 for me (ticket prices are listed here).
Initial Thoughts…
I have to say that the concept of Kidzania is pretty cool. If I were a kid, I would have loved it. Being an adult, I had to admire from afar because you can't participate unless you're a kid – dang! The only other way to get into the action (if you're an adult) is to work there.
Kidzania Concept
Kidzania is basically a miniature version of a city that allows children to experience what daily adult life might be like. The children enter the city with K50 (50 dollars in Kidzania – also called kidzos). They can spend their Kidzos by buying Kidzania products or by attending Kidzania activities, like art class, university, etc. They can also earn more Kidzos by helping out in Kidzania, working as a fire fighter, delivery kid, police officer, etc.
Children learn the concept of money and how a society operates as a whole. They also learn about careers and job functions as they act them out.
The Kidzania Experience
You can buy your tickets online or you can buy them from the counter. The entry process is a lot quicker if you purchase online (the online purchase queue looks a lot longer but it moves much, much more quickly than queue for purchasing tickets on the spot). Additionally, if you come too late, you might miss out on entering if you attempt to purchase tickets on entry.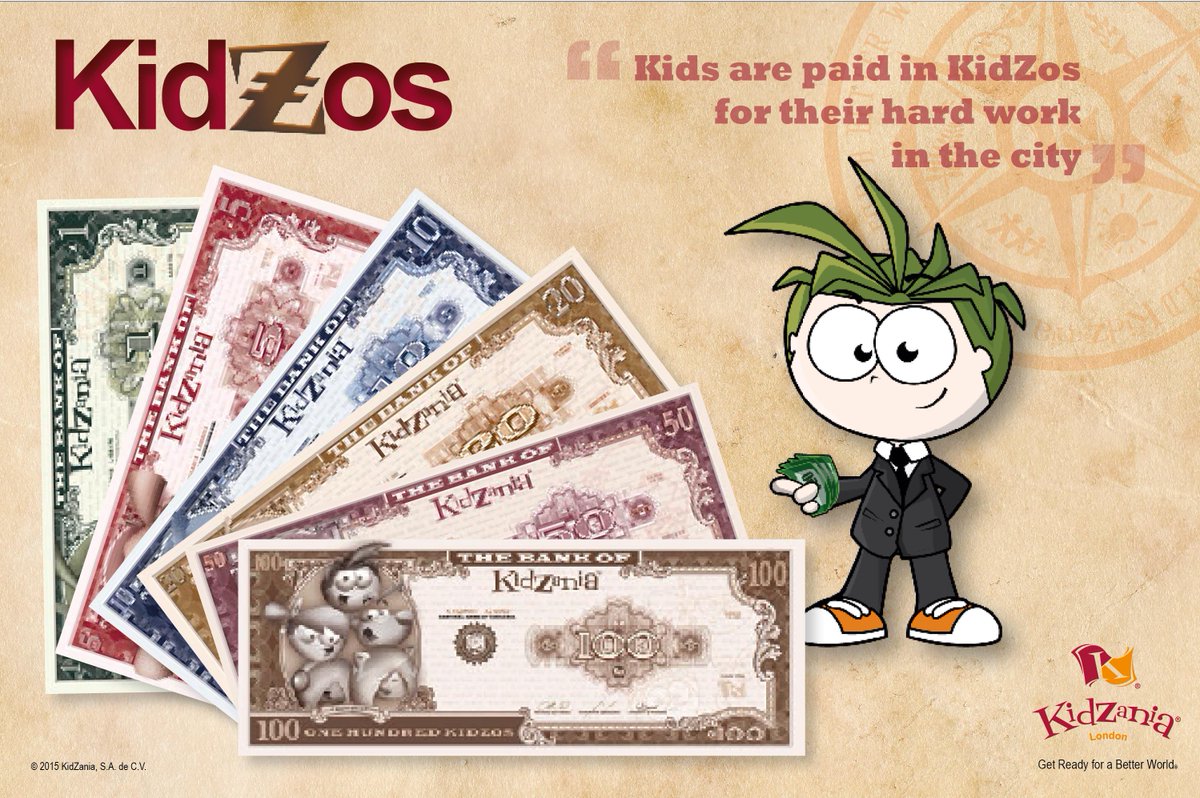 After registering, you are "tagged" with one of those magnetic devices that they use on clothing to prevent theft. You get a boarding pass and a Kidzania cheque for Z50. The boarding pass allows you to enter Kidzania. Once inside, you need to cash your cheque at the bank to get your Kidzania money.
Once you've done that, you're good to go exploring! According to Kidzania, "children can role-play over 90 different professions in 59 different establishments. Such as being a chef, pilot, surgeon, nurse, lawyer, firefighter, police officer, actor, reporter, artist, courierman, newscaster, photographer, etc."
The Things You Can Do at Kidzania
Check out our experience of what you can see and do in Kidzania – we got most of it but there were a couple more things that we missed. I apologise for the crappy photography but this was the best I could do with bad lighting, a mobile phone camera and a sleeping toddler in arms.
Firefighter
At the fire department, your child can learn what it takes to be a fire fighter.
The children dress up in uniform and ride on the fire engine.
They will answer a distress call to put out the fire at the burning hotel.
A number of "civilians" have taken over the water guns and jumped in to save the burning hotel. By the time the fire engine arrives, the head fire fighter has chased away the civilians so that the "real" fire fighters can get the job done.
Unfortunately, the civilians have done such a good job putting out the fire and there is no fire for the "real" fire fighters. So they set the building on fire again for the "real" fire fighters to get into the action. Well, I'm sure these are just teething issues that they'll sort out soon enough.
At the City Center
Relax around the Independence Fountain…
…or experience the heights with a little bit of building climbing.
Law and Order
Uphold Law and Order in Kidzania as a member of the police force…
…and keep the city safe by locking up criminals in jail.
Don't worry if you find yourself on the wrong side of the law because in Kidzania everyone gets a fair trial at the law courts.
Meanwhile, CSI will investigate the crime.
Healthcare
At the hospital, our young doctors are learning how to look after the newborns in the nursery.
Meanwhile, the dentists are busy cleaning teeth.
Around the City
The delivery kids are busy delivering parcels.
The supermarket is open for business.
The newspapers are hot off the printing press.
The Travel Agents are organising tours.
Shopping in Kidzania
At the Department Store, you can spend your hard-earned Kidzos on toys. Be warned! The cheapest item available are stickers which costs Z60. Most other items are Z200 and up so your little Kidzanian will have to work pretty hard to afford anything.
Lights, Camera, Action!
But don't worry if you don't have a lot of money. You can still watch a magic show performance at the Kidzania Theatre for free!
And if your little Kidzanian is inspired, there is an Actor's Academy offering acting lessons.
Then head over to the TV Station to see if you can get onto the big screen.
Or if radio is your thing, head over to the local radio station.
If your little Kidzanian fancies a stroll down the catwalk, they can drop by the fashion house. Rather be behind the camera? Don't worry! Next door is the photography studio where you can learn the art of photography and photo-shop.
Getting Creative
Feeling creatively inspired? Head over to the art gallery to learn how to paint.
Creativity is also required at the Jewellery Store where new designs are always in demand.
At the Beauty Salon, there's always a queue for the latest look.
Services and Manufacture
If you're not sure what sort of career you want, try the job center to get some career advice.
For the technology inclined, there is the Telecommunications Center…
The Mobile Phone Zone…
And the Notebook Factory.
Your little Kidzanian and also learn how to fly a plane at the Flight Center…
…look after the city by maintaining the power supply…
…or keep the city looking great by washing windows, building brick walls, and painting the buildings. Unfortunately the latter was not open which really disappointed Aristotle who only wanted to paint walls. Of course, of all the things he could choose to do in Kidzania, he had to pick the one that wasn't available. Typical.
Closed for Maintenance
That's another thing about Kidzania. At any time, without warning, any of the features may be closed for maintainance. Unfortunately, you won't know about it until you get inside and discover that it is closed.
Health Insurance
With all the dangerous work going on, you will definitely need Insurance. Don't worry, Kidzania provides that, too. Except for the day we went – the Insurance Office was also out of commission. Hopefully there were no accidents that day.
Automobiles
For the car enthusiasts, there is a Car Showroom…
…Car Repair Workshop…
…and a Petrol Station.
Food to Eat
By now your little Kidzanian should be pretty hungry. Well, you can grab a bite – a real one – at any of the cafes.
Your little Kidzanian can also go to cooking class and learn how to make their own sandwiches which you can eat too!
When we went, the Ice Cream Factory wasn't open yet, but I'm sure it should be already or will be soon if it isn't already.
More Things to do
After some food, your Kidzanian can work off the calories with a bit of action at the Disco Lounge…
…or get a degree at the University.
Little Kids
Toddlers can head over to the Kidzania Elementary School…
..or rest in the Residential Area.
At the house, they can have a nice long bubble bath…
…then it's off to bed for a bouncy rest.
After a nap, it's time to fix a snack in the Kitchen…
…and read some books in the living room. There is also a sandpit outside the house for some sandy fun.
At the end of the day, you can bring home your memories with photos taken during your child's experience at Kidzania.
Extra Amenities
Last but not least, it was good to see that Kidzania also keeps the handicapped in mind with a handicap elevator.
Also not shown is the parent's room. Yes, Kidzania comes with its very own parents' lounge complete with wifi if you want to get work done – or entertain yourself – while the kids are playing at it. If you have kids under the age of 8, you do need to hang around.
For more information, check out Kidzania's Q&A.
Conclusions
It should have been a fun and thrilling experience for most children unless your child is Aristotle who decides within 10 minutes of entry that he doesn't like Kidzania and wants to leave. Hercules, slept through most of it except for the residential house where he had a lot of fun in the ball pit (otherwise known as the bubble bath) and the kitchen. Actually, so did Aristotle, but I'll be danged if I'm going to pay RM90 for the two of them just to play in that house.
Ideally, to really appreciate the experience, I feel that Kidzania is more appropriate for children aged 5 and above. Some 4 year olds might still enjoy it, but I'd come prepared for a wasted visit just in case. There are exhibits for younger children, but I wouldn't go there specifically for these. They're a great way to entertain the younger ones if you have older children in the main city, though.
Will we be going back? Not any time soon. Perhaps when Hercules is old enough. Aristotle's curiosity has been sufficiently fulfilled and he no longer desires to visit Kidzania.
Update: we did go back and it went a lot better the second time around – check it out.