We were planning a week in Hawaii and since I've never been there and we weren't following any tours, I figured I had better do some homework. As much as I like to go on the fly, there is so much to do in so little time and Hawaii is a place that requires advanced booking, especially when you're heading there in peak season. So here we are…
Luau Dinner Shows
One does not go to Hawaii without seeing a Luau show so these were a couple of Luau Dinner Show options – both suitable for families – courtesy of Lonely Planet:
'Aha 'Aina – oceanfront dinner show; 3-act musical play narrating the history of Hawaiian songs and hula:

Monday evenings only from 5:30 to 8 pm
Adults – $179; children (5-12 years) – $101

Waikiki Starlight Luau – outdoor buffet dinner with Samoan fire dancing and hula:

Sunday to Thursday from 5:30 to 8 pm
Adults – $99; children (4-11 years) – $50
You can also book upgraded tickets for $139 per adult or $62.50 per child
Steak Joints
We like out steak and these were among the top steak houses in Oahu on Tripadvisor:
Places to Eat
And because we get hangry boys, it is always wise to have a few food options up your sleeve just in case an "on the fly" option does not present itself:
Day 1
Given the boys' penchant for sand and water play, we had to designate a beach day. In the land of beaches, it can be difficult to decide which one to go to. In the end, I thought Hanamau Bay would be the most suitable since the boys have never been snorkeling before. It also meant we could also hit Halona Blow Hole at the same time since it's only a stone's throw away.
Hanamau Bay / Halona Blow Hole
$7.50 for adults/free for children under 13 years; $1 for parking
Great place to start snorkeling
From the overlook, check out the crystal waters and the 7000-year-old coral reef.
There is also an educational center to visit.
Don't feed the fish!
Halona Blow Hole is very nearby and worth a visit so don't forget to stop by – entry is free.
Lunch places to eat around Hanamau
Day 2
The War Memorials p. 102
Get the Passport to Pearl Harbour ticket to see all four memorials for $65 per adult/$35 per child (4 to 12 years); during peak period, book at least one month in advanced.
If you get a "no reservations available message":

you can get walk-in tickets at the Park Visitor Center which opens at 7 am (1300 tickets available – first come, first served).
each day at 7:00 am on-line ticket inventory is released for the next day.
you can also book them from "Visit Pearl Harbour" – although you still need to go early to get the Arizona Memorial tickets separately because it is not included.

Total tour time is 4 to 8 hours; check in between 7 am to 9 am.
No bags allowed at any of the sites for security reasons. Baggage storage available at the Visitor's Center.
USS Arizona Memorial
2 1/2 hour tour; 7:30 am to 3 pm.
They have first come, first served tickets but it is best to make reservations online in advance way before you go during peak periods.
There is also a boat tour available
USS Bowfin Submarine Museum and Park
Entry is included in the Passport to Pearl Harbour, but if you want to purchase them separately, you can get them here.
Hours: 7 am to 5 pm; closed on Thanksgiving, Christmas, and New Year's Day.
Adults $12; Children (4-12 years) $5.
No bags of any kind allowed; lockers available for $3.
Battleship Missouri Memorial
Entry is included in the Passport to Pearl Harbour, but if you want to purchase them separately, you can get them here.
Adults $27; Children (4-12 years) $13. They also have a Heart of Missouri Tour but children must be at least 10 years old.
No food allowed on the battleship, but re-sealable bottles are accepted.
Food: Sliders Grill – offers hotdogs, chicken nuggets, hamburgers.
Pacific Aviation Museum
Entry is included in the Passport to Pearl Harbour, but if you want to purchase them separately, you can get them here.
Hours: 8 am to 5 pm; closed on Thanksgiving, Christmas, and New Year's Day.
Adults $25; Children (4-12 years) $12; combat flight simulators are an additional $10.
Food: Lanikea cafe serves gourmet burgers, sandwiches, fries, salads, and daily specials like BBQ ribs.
Dinner
Day 3
Atlantis Submarine
There are two tours running out of Waikiki in Oahu, Kona in Big Island, and Maui:
90-minute tour; last tour departs at 3pm; check-in 30 minutes before departure time.
Premium Submarine:

Adults – $115
Adult plus free child – $125
Child (up to 12 years; must be at least 90 cm tall) – $45

Regular Submarine:

Adults – $105
Adult plus free child – $115
Child (up to 12 years; must be at least 90 cm tall) – $38
Oahu Circle Island Drive
1. From Waikiki, take the H1 Freeway direction west to the Nuuanu Pali Highway. Exit 61.
2. Nu'uanu Pali Lookout offers all-encompassing views up the coast
p. 135
$3 per car
strong winds so don't forget to bring a jacket
3. Byodo-In Temple
p. 144
$3 per adult; $1 per child
4. Kualo Ranch
p. 147
movie tours $27 per adult; $16 per child
Lunch: Aunty Pat's Cafe (8:30 am to 3 pm) – banana pancakes and ala carte grass-fed beef burgers
5. Beach Stops – pull off the Highway whenever it is safe to do so for a quick dip or spend a relaxing hour at the long string of lovely beaches. Most are virtually deserted during the week.
6. Malaekahana State Recreation Area: Goat Island – offshore, beautiful white sand-protected bay. Paddle over on a raft or board. Adults can wade over at low tide, but don't get stuck there. Consult a tide table to time your visit wisely. p. 151
7. Sunset Beach – big waves in winter, calm in summer. p. 154
8. Pupukea p. 154 – detour upcountry to sample the cool breezes and this North Shore neighbourhood's rural lifestyle.
9. Pupukea Marine Life Conservation District – kid-friendly snorkeling and scuba
10. Waimea Bay p. 157 – enormous waves and surfing contests in winter; but in summer:
North Shore's widest beach
Jumping Rock
Waimea Falls Lagoon
Laniakea Beach (Turtle Beach)
Located in between no. 10 and 11. p. 156
Get off the Kamehameha Highway (route 83) at Pohaku Loa way
Green Sea Turtles come to Laniakea beach to feed on seaweed. Summer is the best time to see them.
11. Haleiea is the quintessential surfing town, brimming with stores and eateries catering to the tastes of a diverse international surf community. Weekends are the most crowded time to visit but also the most fun. p. 158
North Shore Shark Adventures are here:

2 hour tour where you can be submerged in a cage surrounded by sharks 3 miles offshore.
Shark sightings are guaranteed.
$120 per adult; $60 per child

North Shore Eco Tours:

Hiking – $90 for adults; $60 for children
Driving – $65 for adults; $45 for children
12. Pineapple fields – past North Shore, drive uphill for a pineapple tour.
Day 4 and 5
Over on the Big Island… Hilo is the town closest to the Kilauea volcano and Akaka Falls (one of the prettiest waterfalls in Hawaii) but it sounds like there is more stuff to do over in Kailua-Kona. That said, you can make the trip across the big island in about 2 hours so it's not like you can't see the other side. A circle drive around the whole island takes about 6 hours. You can get the times, travel distances, and maps from Hilo Agent.
Places to eat around Hilo:
Volcanoes National Park p. 289
45 minutes from Hilo
Entry per car $10
Check for Alerts and Conditions updates
After Dark in the Park – Tuesdays only at 7 pm
Start at the Kilauea Visitor Center – open 9 am to 5 pm:

"Born of Fire, Born of the Sea" is the featured 25 minute film that is shown in the on the hour throughout the day, starting at 9 am with the last film shown at 4 pm

1 to 3 hours: explore the summit of K?lauea volcano via Crater Rim Drive:

Stop #1 Start Your Tour at K?lauea Visitor Center
Stop #2 Jaggar Museum
Stop #3 Kilauea Overlook
Stop #4 Steam Vents, Steaming Bluff and Ha'akulamanu – Sulphur Banks
Stop #5 Kilauea Iki Overlook
Stop #6 Nahuku – Thurston Lava Tube
Stop #7 Pu'u Pua'i Overlook
Stop #8 Devastation Trail
Stop #9 Hike to Keanakako'i Crater

4 to 5 hours: explore also the East Rift and coastal area of the Park via Chain of Craters Road.

Stop #1 Lua Manu Crater
Stop #2 Hilina Pali Road
Stop #3 Pauahi Crater
Stop #4 Mauna Ulu
Stop #5 Mauna Ulu Flow Across Chain of Craters Road
Stop #6 Mau Loa o Mauna Ulu
Stop #7 Kealakomo Lookout
Stop #8 Pu'u Loa Petroglyphs
Stop #9 Holei Sea Arch
Stop #10 End of Chain of Craters Road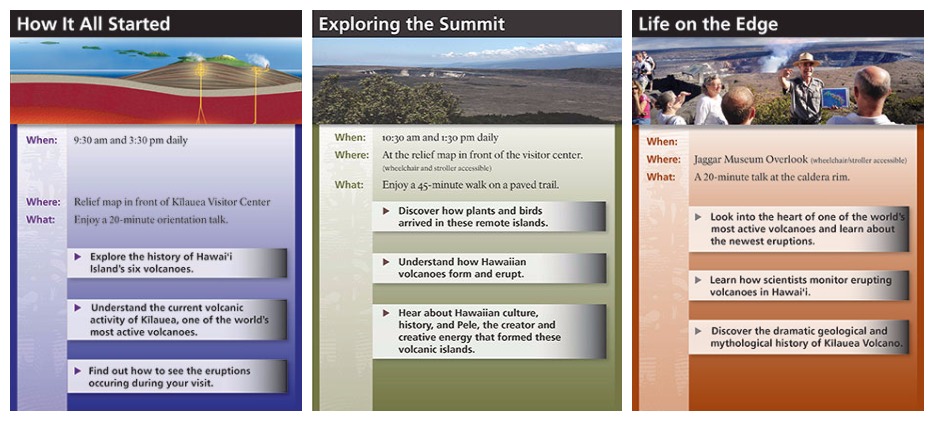 Places to eat in the area:
Akaka Falls
875 Akaka Falls Rd – p. 266
28 minutes from Hilo
Follow Highway 220 between marker 13 and 14
Entry per car $5; per person $1
Zipline adventures available:
Places to eat in the area:
Other places of note, time permitting:
Day 6
Kuhio / Diamond Head
Diamond Head p. 130:

KCC Farmer's Market – 7:30 to 11 am Saturday.
Shangri La Hawaii historic building (children must be at least 8 years) – must book tour; 2.5 hours for $25; operates Wed to Sat at 9 am, 10:30 am, and 1:30 pm; closed Sep to Oct.
Diamond Head State Park – $1 per person; $5 per car; 6 am to 6 pm; 1.5 to 2 hours round-trip.

Kuhio offers protected swimming, canoe rides, sunset hula, and Hawaiian music show.
Places to Eat:
Day 7
Shopping Day
If you only have one place to hit, it should be Ala Moano Center because it's the biggest mall with nearly 300 stores. Located on Kalakaua Avenue, you can always head down to Waikiki Shopping Plaza or do some street shopping if it isn't enough. Shops are open – Mon to Sat 9:30 am to 9 pm; Sun 10 am to 7 pm.
Waikele Premium Outlet is a factory outlet that is a little more out of the way, but they offer bargains on branded items so it's also worth a gander. Shops are open – Mon to Sat 9 am to 9 pm; Sun 10 am to 6 pm.
For more shopping venues in Oahu, check out 10 Best.